A coffee and cocoa smoothie from Liquiteria was the best way I could have possibly decided to wake up this morning. Sipping my drink and navigating Cambridge streets, I listened as Mahi told me about a book she thought I should read: The Bell Jar, by Sylvia Plath. We sadly wrapped up our conversation as we headed into a crowded information session. I was not surprised at the

gorgeous architecture or the throngs of people. I was expecting this from such a prestigious school.
I was not expecting however, to have such a personal, fun, and friendly experience. We wove our way through the Harvard campus with incredible tour guides. Kalen, one of the guides, even mentioned she had read some of our blogs before we arrived. As a team, they were involved in a huge variety of studies and
activities, which meant between the three, they were able to answer all of my questions thoroughly.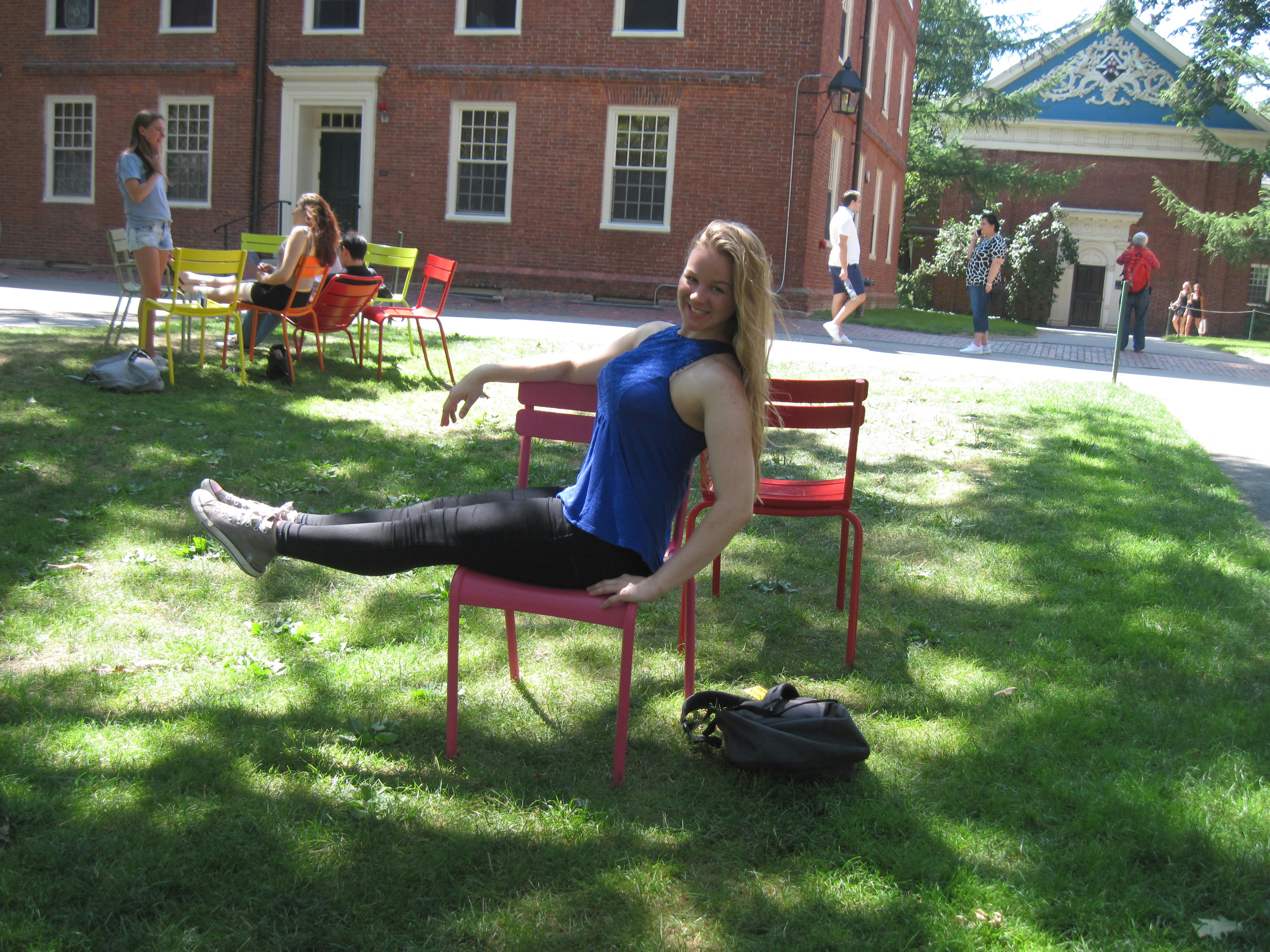 These chairs are rumored to be worth five hundred dollars!
Apparently, there is a problem with them being stolen.
I feel very lucky to have been on a private tour, because the other groups leaving from the information session were quite large. We ate lunch in the Freshman dining hall. I really enjoyed having conversations about our Women and Leadership course, Harvard, the California drought, our guide's experiences, and California college culture. Conversation flowed effortlessly until it was time for us to leave.
One of the best parts of today was dining with our tour guides,
Harvard student Sarah, and

Roger Banks, Director of Recruitment (not pictured).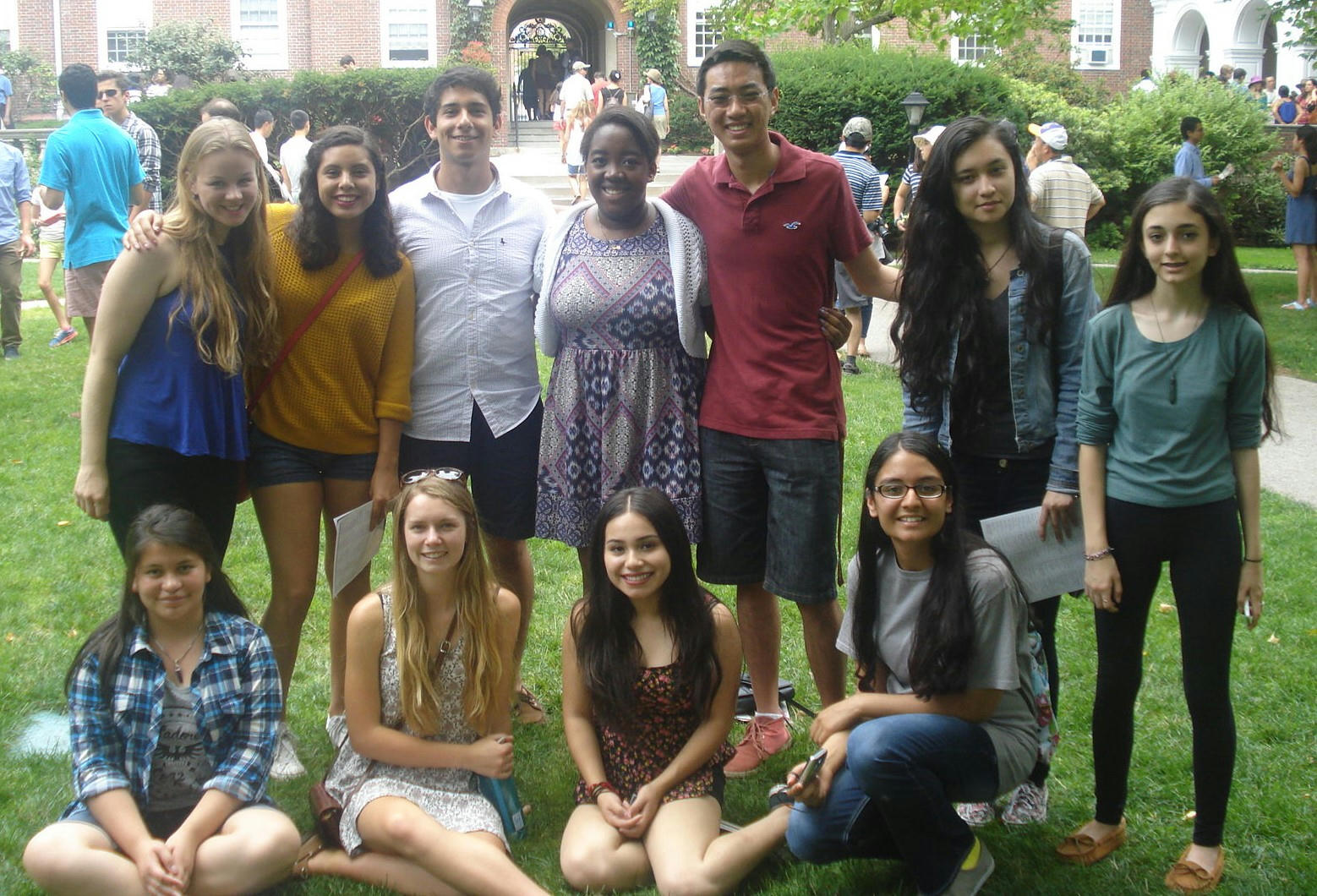 Top row and center from left to right: Cesar,
Kalen and William. William is from Los Angeles!
Kalen and Sarah were kind and generous and came with us to tour Boston. I was glad they did because I was able to further conversations about Harvard and Cambridge. Sarah asked me about my plans for college, and shared what paths her Harvard friends take with similar interests. After much rain-filled wandering, we ended up in Boston Commons, where they had to leave us.
I saw this gorgeous sky-art almost immediately when stepping into the downtown area.
I have learned that this is Komal's go-to pose for photobombing.
I was immediately invigorated with the city's energy. We ran around the park, and took many photos...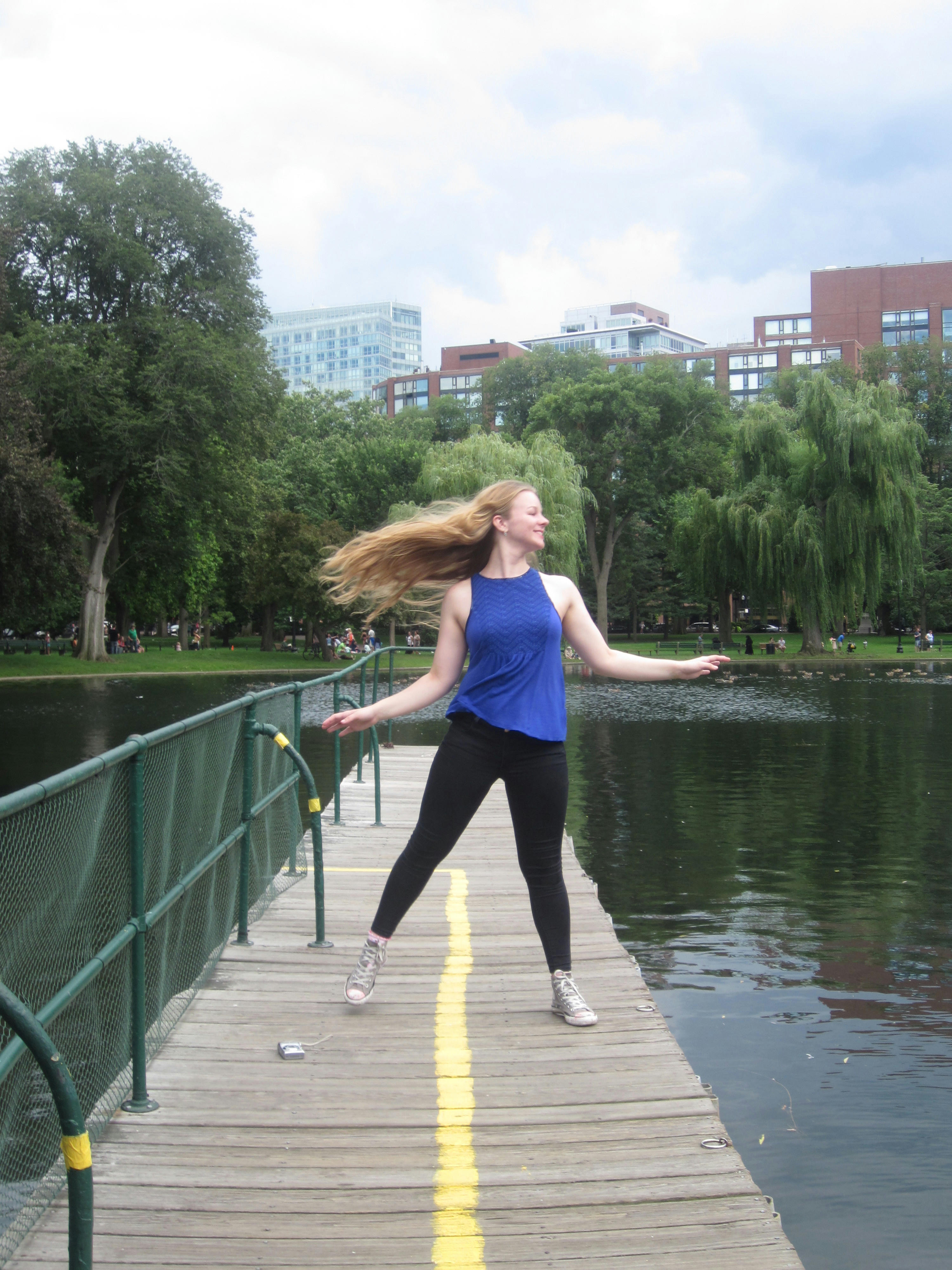 Diana took this photo of me.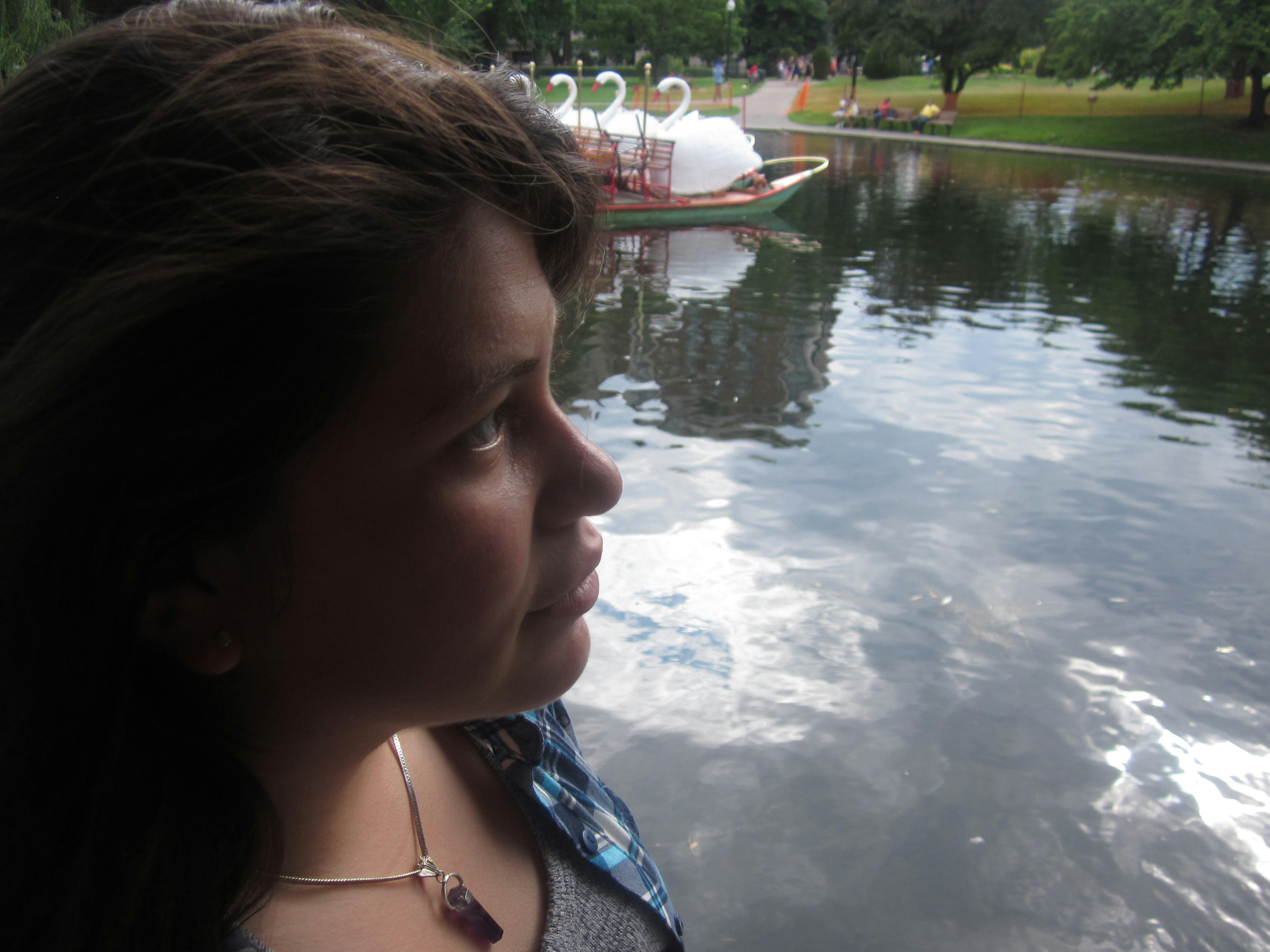 Diana,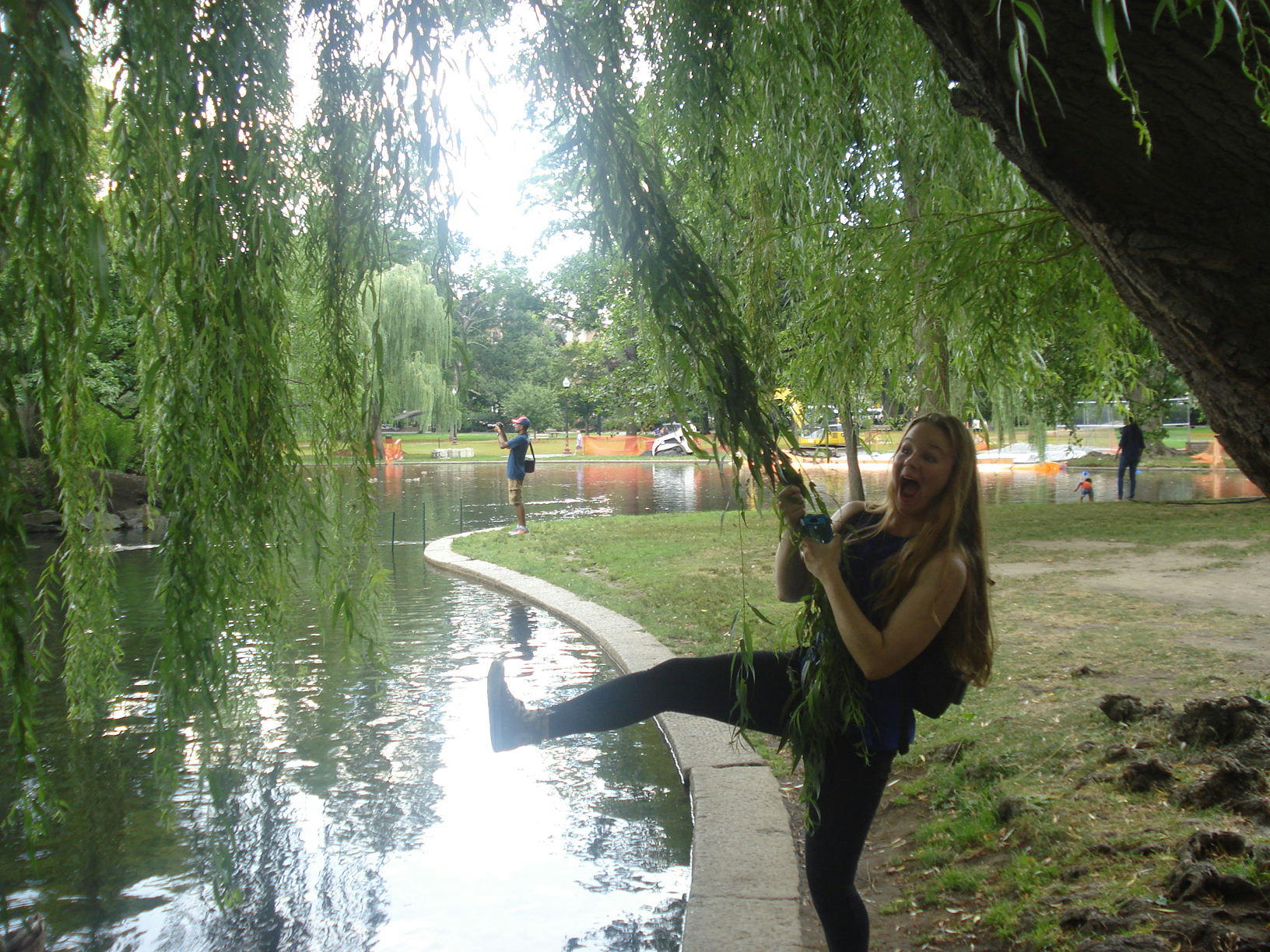 On July twenty-third, I announced that I would be the
next Tarzan. I am now putting that plan into action.
We exhausted ourselves, and shortly decided to get dinner in Boston. After an hour of walking, we learned that no restaurants in that area were open. We were all low-energy, but we made it to the underground train to head back to our hotel.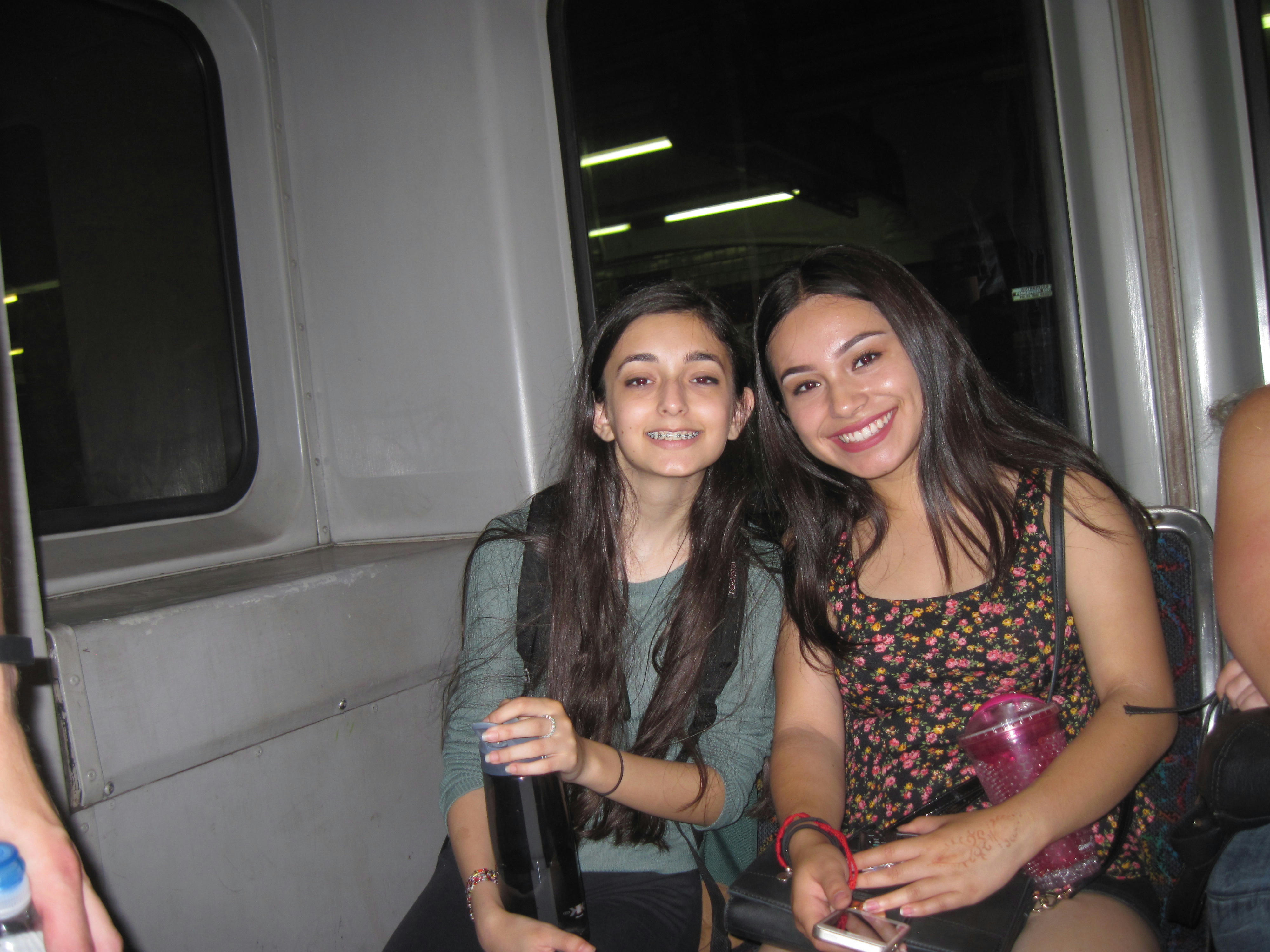 Mahi and Esme.
Reflecting Harvard, I came to this conclusion: the resources, campus, and dorm life are all great, but what makes Harvard exceptional is the people who consider it their home.
I have become increasingly antsy to go college. I want to skip the application process and senior year and have academic and personal freedom.